suriNotes.com's

Chart Patterns & Algo. Trader (Weekly Magazine, September 21, 2020)

---

Auto Generated Chart Patterns/Analysis
Stocks/Futures/Commodities/FX
Daily/Weekly/Monthly Analysis
Watchlists
Algorithmic Trading Concepts/Analysis
Advanced Trading Ideas
Sectors & Indexes relative performances
Relative Strength Ranks
"Develop the winning edge; small differences in your performance can lead to large differences in your results.-- Anon"

Trade Ideas (09/22/2020, Tuesday )

Archives
Collections of Trade Charts, Pattern Formations, Daily setups, Daily Ideas posted to Twitter or StockTwits. Posts are updated during intraday and end-of-day.
SALE 30% off Yearly Subscription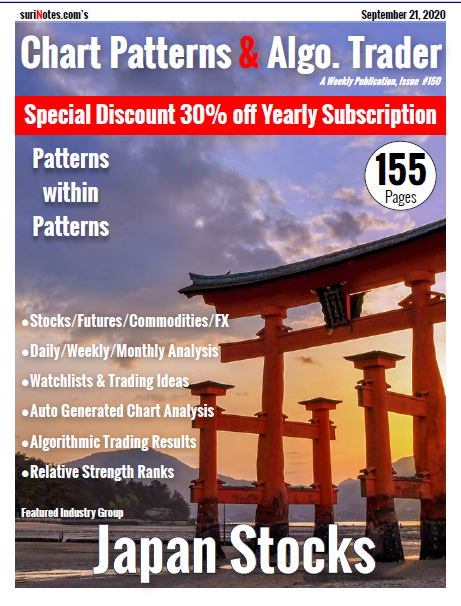 09/22/20 (11:28)

PENN (Cup & Handle)
09/22/20 (11:21)

GILD (Symm. Tri.)
09/22/20 (10:49)

GS (Symm. Tri.)
09/22/20 (10:18)

DKNG (Cup & Handle)
09/21/20 (20:49)

ROKU (Cup & Handle)