suriNotes.com's

Chart Patterns & Algo. Trader (Weekly Magazine, August 10, 2020)

---

Auto Generated Chart Patterns/Analysis
Stocks/Futures/Commodities/FX
Daily/Weekly/Monthly Analysis
Watchlists
Algorithmic Trading Concepts/Analysis
Advanced Trading Ideas
Sectors & Indexes relative performances
Relative Strength Ranks
"I think that successful traders have a personality, that they're not afraid to have nineteen losing trades out of twenty, because the twentieth can be a trade that's much greater than all the nineteen put together.- George Segal "

Trade Ideas (08/10/2020, Monday )

Archives
Collections of Trade Charts, Pattern Formations, Daily setups, Daily Ideas posted to Twitter or StockTwits. Posts are updated during intraday and end-of-day.
SALE 30% off Yearly Subscription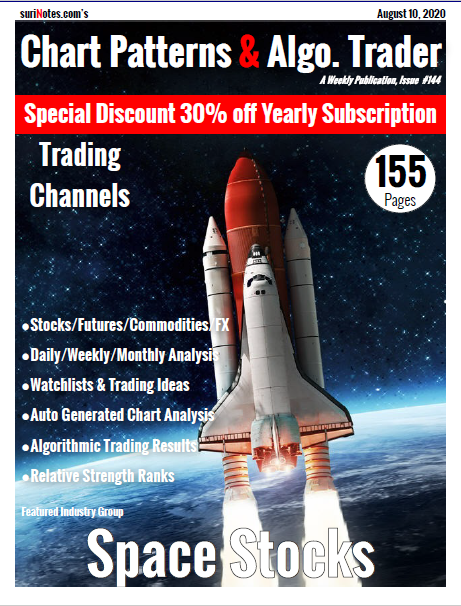 08/09/20 (12:41)

DKNG (ABC Bull)
08/08/20 (20:02)

CSIQ (Cup & Handle)
08/08/20 (16:53)

DDOG (H&S)
08/07/20 (17:18)

SPX (VBOT)
08/07/20 (17:10)

PENN (Cup & Handle)