"The public wants gurus, and new gurus will come. As an intelligent trader, you must realize that in the long run, no guru is going to make you rich. You have to work on that yourself."
Trading Perfect ABC with SuperBars 03/10/2010 4.45pm
---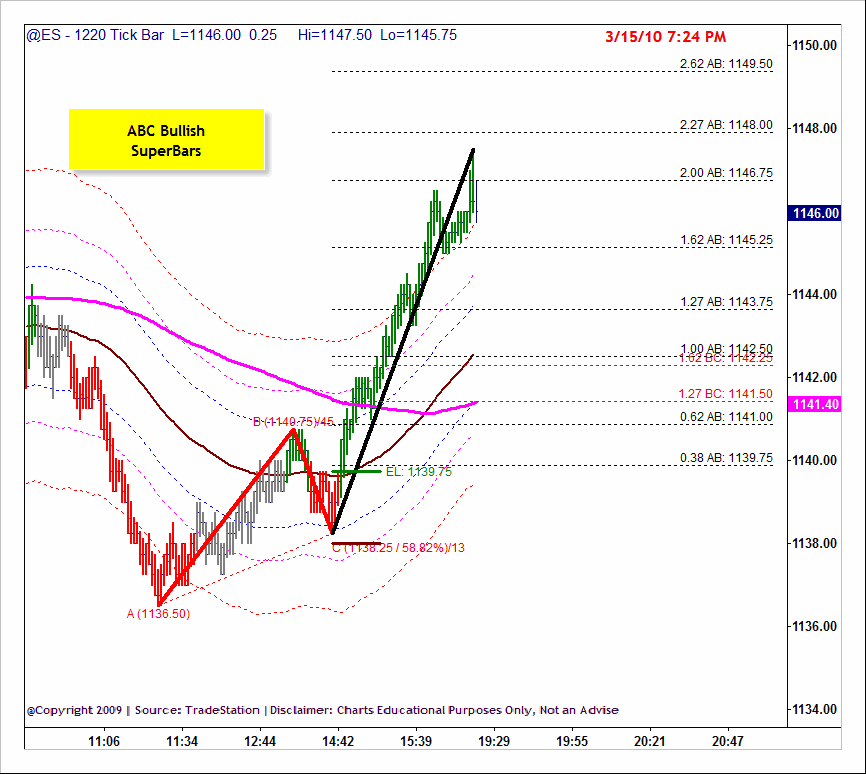 This morning S&P Emini futures sold-off from the high of 1152 to 1136 level. Around 11.30am, @ES traded outside the extreme Fib. bands near 1136 and reversed its down-trend inside the Fib. bands. After lunch hour, @ES traded above the mid-Fib. Bands (1140.75) to form 'B' pivot and retraced below the Fib. Bands to signal formation of ABC Bullish pattern. The 'C' retracement (59%) was below the mid Fib. Band to confirm Perfect ABC pattern. The Entry Level for this Perfect ABC was at 1139.75. Price closing above the EL with a strong Green SuperBar and above the mid-Fib. Band signaled a clear entry into Perfect ABC around 1140.25. A Stop loss was placed around 1138 to protect the trade. Strong SuperBars suggested higher targets into this ABC Pattern as 100%AB was set 1142.5 and 162%AB at 1145.25.




1. Auto ABC
2. Fib. Bands
3. Super Bars

Trading Cup and Handle Patterns
Trading Megaphone Patterns
How to trade your Dragon
Trading ABC Patterns
Parabolic Arc: What Goes Up...
Trading Large Gaps
Trading Parabolic Arcs
Behavioral Biases
Trading Chart Patterns Prematurely
Developing SPX Cup and Handle Pattern
Trading Patterns with Market Context and EquiVolumeTrend
Trading Patterns with Market Structures
Trading Failed Chart Patterns - H&S
Happy New Year 2016
Trading Phases using CMI
Volatility Zones
Trade Tools and Support Tools
Trading Confluence of Chart Patterns
Trading ABC Patterns with Options
Trading Elliott Wave with ABC
2B Patterns
ABC Bullish
ABC Bearish
Books
CMI
Double Bottom
Double Top
Dragons
Elliott Waves
Failed Chart Patterns
Fib. Bands
Fib. Zone Pivots
Fibonacci Levels
Floor Pivots
Gartley/Butterfly
Globex Pivots
Head and Shoulders
Inv. Head and Shoulders
Market Structures
MegaPhone
Multiple Tops
Multiple Bottoms
Options
Parabolic Arc
Pivots
Price Profile
Seminars
Strageies
SuperBars
Triangles
Trading
Psychology
Videos
Volatility Zones
VWAP
Wolfe Waves
X5 Patterns
Nov. 2015
Oct. 2015
Before 2015