Trading ABC Patterns with Options 12/07/2010 4.45pm
---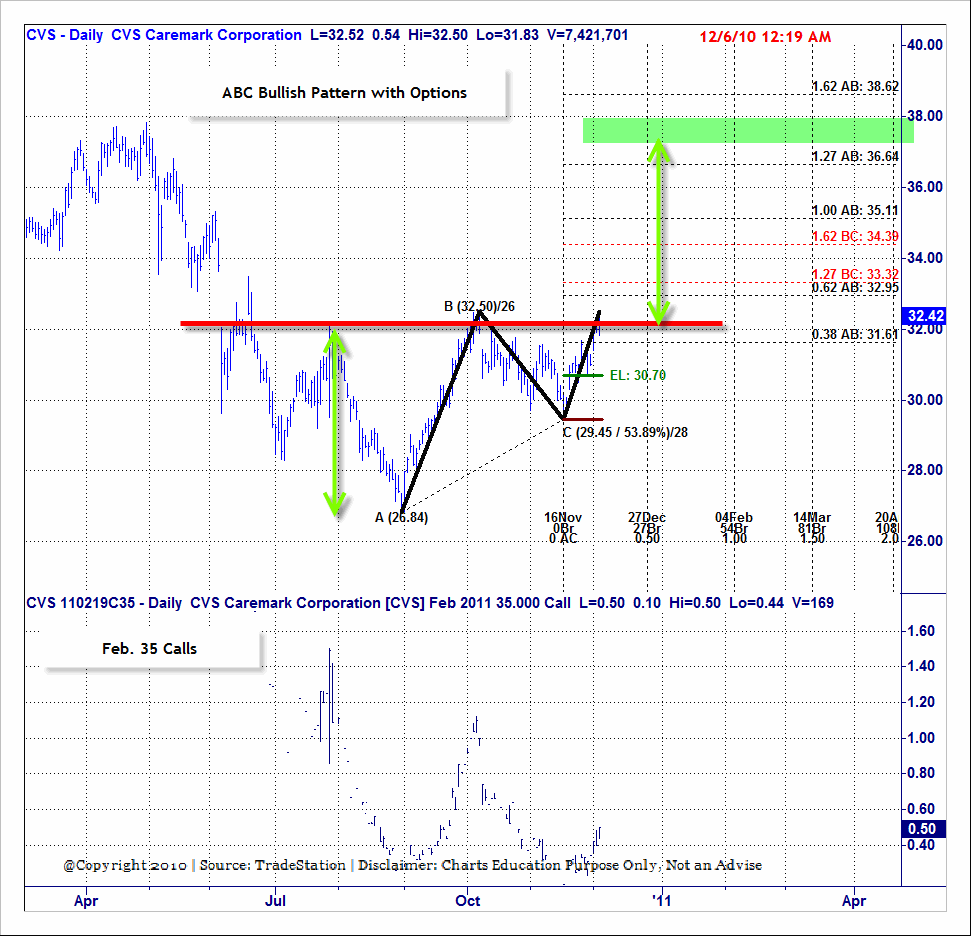 ABC Patterns are integral part of many other patterns like Double Tops, Double Bottoms and Head and Shoulders. When I see Inv. Head and Shoulder patterns and its breakouts I plot ABC Patterns and trade using Options. Here is an example of CVS (Caremark Corp.) Daily Chart. This chart shows a clear Inverse Head and Shoulder pattern. Plotting ABC Bullish Setup, it covers from Sept. 2010 to Dec. 2010, trading above EL Level. On Friday Dec. 3rd, it traded above the Neckline to signal a breakout. The distance from the Neckline to the Head is about $6, so the projection from the Breakout level is also $6, targeting around $38. I plotted CVS Feb. $35 Calls in the subgraph. This chart also shows a potential double bottom pattern confirming the validity of Inv. Head and Shoulders in the underlying stock chart. The Feb. 2011 CVS 35 call is trading at $0.50c. Expected target is around $1.10-$1.40.


Update on Dec. 27, 2010
The last post on Dec. 6th showing CVS ABC Pattern and its Feb. 35 Options. CVS is trading in ABC Bullish Pattern with a Long triggered at 30.70, targets: $35 (100%AB), $36-$38 (127%AB-162%AB) and stop at $29.40 (below C). On Dec. 6th Feb. 2011 $35 Call options were trading at 0.50c. On Dec. 22nd, CVS reached its 1st target of $35, and Feb. 35 Calls were traded at $1.40. The chart below shows CVS chart as of Dec. 23rd trading.




1. Auto ABC
2. Fib. Bands

Trading Symmetric Triangle Patterns
Trading Cup and Handle Patterns
Trading Megaphone Patterns
How to trade your Dragon
Trading ABC Patterns
Parabolic Arc: What Goes Up...
Trading Large Gaps
Trading Parabolic Arcs
Behavioral Biases
Trading Chart Patterns Prematurely
Developing SPX Cup and Handle Pattern
Trading Patterns with Market Context and EquiVolumeTrend
Trading Patterns with Market Structures
Trading Failed Chart Patterns - H&S
Happy New Year 2016
Trading Phases using CMI
Volatility Zones
Trade Tools and Support Tools
Trading Confluence of Chart Patterns
Trading ABC Patterns with Options
2B Patterns
ABC Bullish
ABC Bearish
Books
CMI
Double Bottom
Double Top
Dragons
Elliott Waves
Failed Chart Patterns
Fib. Bands
Fib. Zone Pivots
Fibonacci Levels
Floor Pivots
Gartley/Butterfly
Globex Pivots
Head and Shoulders
Inv. Head and Shoulders
Market Structures
MegaPhone
Multiple Tops
Multiple Bottoms
Options
Parabolic Arc
Pivots
Price Profile
Seminars
Strageies
SuperBars
Triangles
Trading
Psychology
Videos
Volatility Zones
VWAP
Wolfe Waves
X5 Patterns
Nov. 2015
Oct. 2015
Before 2015