"Eighty percent of success is showing up. -Woody Allen "
Trading Confluence of Chart Patterns 10/28/2015 4.45pm
---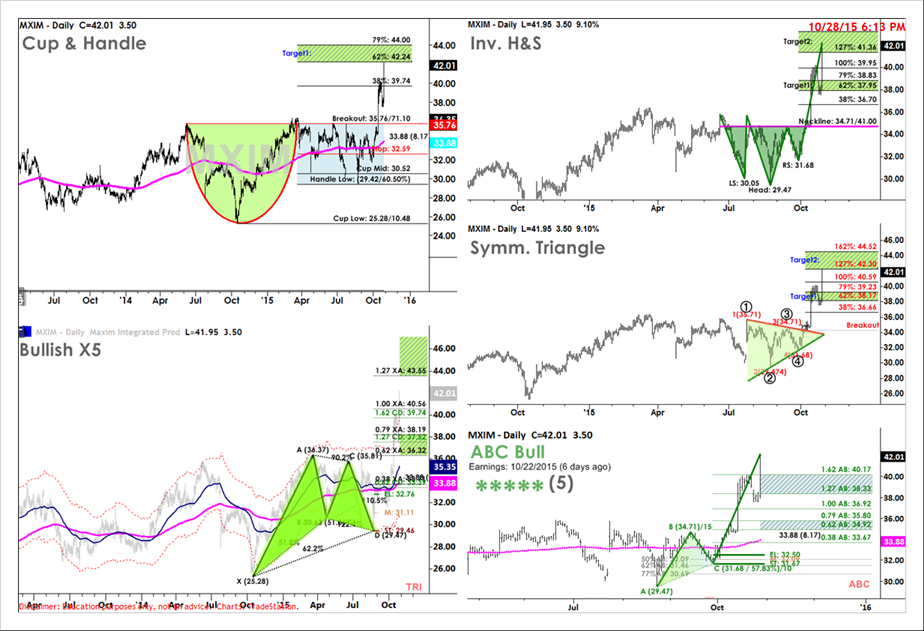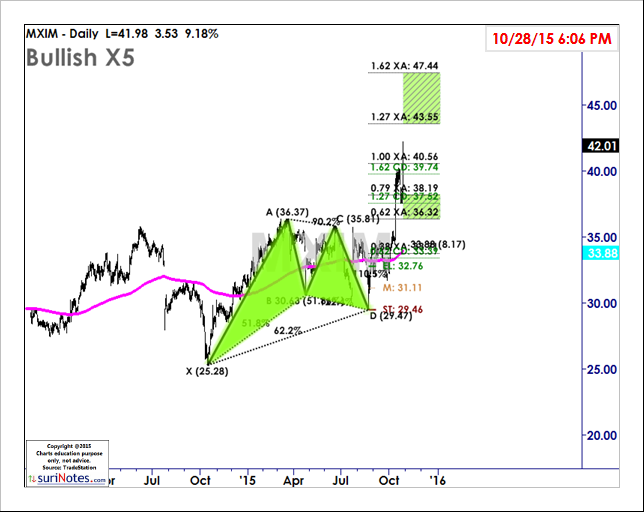 Trading Confluence of Patterns

One of the rarest phenomenon in the markets is confluence of patterns of various categories signaling and confirming the underlying trend. It may happen once in a while with two or three patterns, but very rarely it happens with 5 or more patterns.

Here is a case of such a phenomenon in MXIM Daily charts. It shows ABC Bullish (Primary), Bullish X5, Inv. Head and Shoulders, Symm. Triangle Pattern. They all belong to same seed wave structure (ABC), but in this case Cup and Handle Pattern also joined the group and strengthened its direction.





1. Auto ABC
2. Gartleys/Butterflys (X5)
3. Cup and Handle
4. Triangle Patterns
5. Head and Shoulders

Trading Cup and Handle Patterns
Trading Megaphone Patterns
How to trade your Dragon
Trading ABC Patterns
Parabolic Arc: What Goes Up...
Trading Large Gaps
Trading Parabolic Arcs
Behavioral Biases
Trading Chart Patterns Prematurely
Developing SPX Cup and Handle Pattern
Trading Patterns with Market Context and EquiVolumeTrend
Trading Patterns with Market Structures
Trading Failed Chart Patterns - H&S
Happy New Year 2016
Trading Phases using CMI
Volatility Zones
Trade Tools and Support Tools
Trading Confluence of Chart Patterns
Trading ABC Patterns with Options
Trading Elliott Wave with ABC
2B Patterns
ABC Bullish
ABC Bearish
Books
CMI
Double Bottom
Double Top
Dragons
Elliott Waves
Failed Chart Patterns
Fib. Bands
Fib. Zone Pivots
Fibonacci Levels
Floor Pivots
Gartley/Butterfly
Globex Pivots
Head and Shoulders
Inv. Head and Shoulders
Market Structures
MegaPhone
Multiple Tops
Multiple Bottoms
Options
Parabolic Arc
Pivots
Price Profile
Seminars
Strageies
SuperBars
Triangles
Trading
Psychology
Videos
Volatility Zones
VWAP
Wolfe Waves
X5 Patterns
Nov. 2015
Oct. 2015
Before 2015