Trading Phases using CMI 11/18/2015 4.45pm
---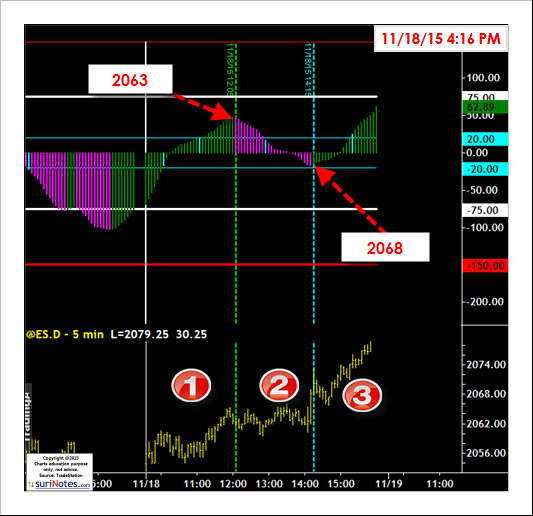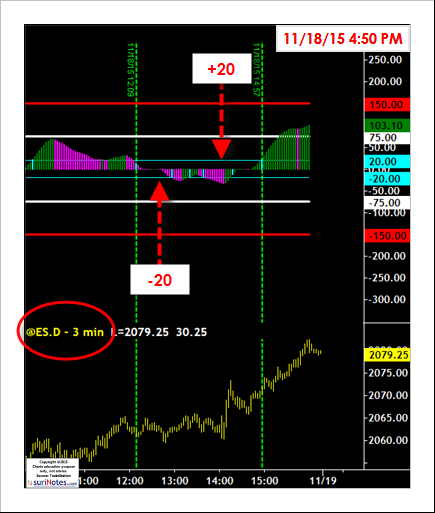 Trading Phases using CMI

CMI (Combined Market Internals) measures the underlying market strength using breadth indexes ($ADV, $DECL, $TICK, $TRIN, $ESINX, SPY, XLF). Most analysts follow market internals very carefully as markets usually trade in the same direction as market internals. CMI is computed (intraday only) using an advanced mathematical algorithm (using above breadth indexes) and plotted as a single histogram. Plotted CMI values show market strength and market direction. General wisdom is to trade markets only in the direction of market internals (CMI).

Today (Nov. 18, 2015) markets were quite strong from the open. CMI was signaling strong strength from the open. I usually wait first 15 minutes (30 minutes in a slow markets) for the internals to settle for accurate CMI readings. This morning, CMI was unwavering in its direction (UP) until noon in the first phase (1) of the market. Around noon, CMI turned RED signaling change in internal strength in Phase (2). CMI RED automatically does not mean trend is negative or down-trend. This phase (2) continued until 2.15pm. After the Fed news, around 2.15pm, CMI changed its trend and continued its original market trend (UP) in Phase (3). As a short-term trader, I use CMI market phases to trade the underlying instruments (@ES, @NQ, @YM). During the first phase I only enter LONG positions. Since the market trend was pretty strong in Phase (1), Phase (2) may be only a corrective phase. In Phase (2), market is signaling a side-ways or consolidation mode without any clear trend. The best any trader could do is to stay away trading in Phase (2). Once a trend is confirmed in Phase (3) using CMI, now only trade Long side until CMI changes. Please Note, I am not trading CMI color changes or these Phases... I am trading underlying market instruments @ES, @NQ, @YM using Patterns. I strongly discourage users to trade ONLY Support Tools (like CMI) exclusively.

You can plot CMI in any intraday time-frame chart, but I primarily plot/analyze in 5m chart and 3m charts. Three Minute (3m) charts show heads up signal in the trend to come in 5 minute CMI chart. One of the critical point in 3m charts is to show the CMI strength zones. CMI values of -20 to +20 show slow and chop zones. Trading above +20 or below -20 show the trend zones. When CMI is persistantly trading between -20 to +20, I would wait for clear trend direction (out side of 20 bands).






1.
Combined Market Internals
2.
Auto ABC
3.
Trail Stops
Trading Symmetric Triangle Patterns
Trading Cup and Handle Patterns
Trading Megaphone Patterns
How to trade your Dragon
Trading ABC Patterns
Parabolic Arc: What Goes Up...
Trading Large Gaps
Trading Parabolic Arcs
Behavioral Biases
Trading Chart Patterns Prematurely
Developing SPX Cup and Handle Pattern
Trading Patterns with Market Context and EquiVolumeTrend
Trading Patterns with Market Structures
Trading Failed Chart Patterns - H&S
Happy New Year 2016
Trading Phases using CMI
Volatility Zones
Trade Tools and Support Tools
Trading Confluence of Chart Patterns
Trading ABC Patterns with Options
2B Patterns
ABC Bullish
ABC Bearish
Books
CMI
Double Bottom
Double Top
Dragons
Elliott Waves
Failed Chart Patterns
Fib. Bands
Fib. Zone Pivots
Fibonacci Levels
Floor Pivots
Gartley/Butterfly
Globex Pivots
Head and Shoulders
Inv. Head and Shoulders
Market Structures
MegaPhone
Multiple Tops
Multiple Bottoms
Options
Parabolic Arc
Pivots
Price Profile
Seminars
Strageies
SuperBars
Triangles
Trading
Psychology
Videos
Volatility Zones
VWAP
Wolfe Waves
X5 Patterns
Nov. 2015
Oct. 2015
Before 2015