Trading Failed Chart Patterns - H&S 1/08/2016 8.45am
---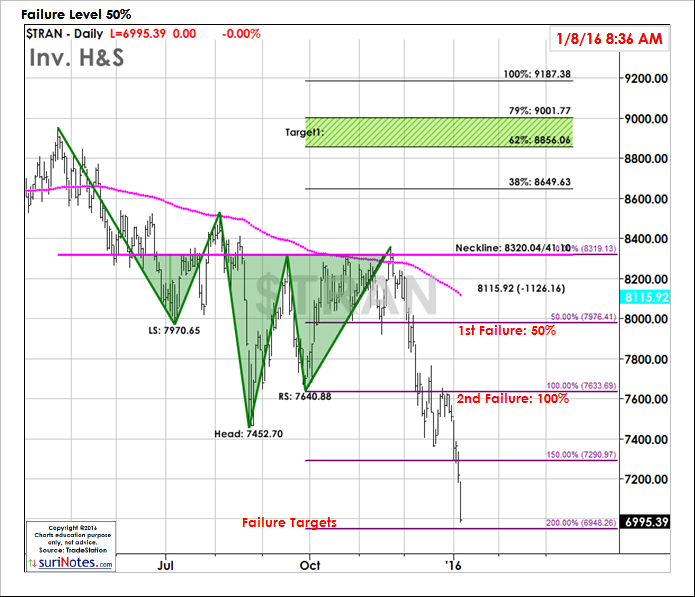 Most traders are familiar with trading chart patterns and its predictable targets and stops. When patterns fail to reach the pre-determined target levels the pattern becomes a 'Failed Pattern.' There are multiple categories of 'Chart Patterns Failure' but we may get to them in another blog post.

'Failure' word sounds painful but understanding the knowledge and potential opportunity it offers and its risk/reward, traders could use 'Pattern Failure' to their advantage and benefit from it. 'Failed Patterns' provide more reliable signals than original 'patterns' in most conditions.

In this example, I would like to discuss current (Jan. 2016) Dow Jones Transportation Index ($TRAN) Inv. Head & Shoulders pattern.

Most of the year 2015, $TRAN (Transport Index) were relatively flat to downtrend mode agreeing with market theory that Transports lead market indexes. From April 2015 to Dec. 2015, $TRAN formed an Inv. Head and Shoulders Pattern. When I first saw its formation in late Aug. 2015, I was certain Market indexes are going to rise to new highs by the end of 2015, thinking Inv. HS would breakout above Neckline 8320 and rise higher. In Nov. 2015, $TRAN did breakout above Neckline 8320, but not closed above Neckline. Usually multiple closes above Neckline signals a confirmation of breakout. A break above Neckline but no close "SHOULD" have been a failure signal. Well, as most traders, I ignored it and caught up in the "bulllish close for 2015" fever like many other traders.

Late November 2015, $TRAN started to decline from neckline breakout failure and started to drift lower. In Head and Shoulders (or Inv. HS) patterns there are two failure levels. 1. The mid point between the RIght-Shoudler and 2. Neckline and Right Shoulder High (in case of HS) or Low (in case of InvHS). Once price trades below or above Right Shoulder High/Low the HS pattern is considered Failed.

Once pattern fails, usually the moves from the failure levels are quick and volatile. In failed H&S Patterns, the first level of target is set at 100% depth from the Right Shoulder Low/High.

$TRAN Inv. HS pattern failure shows how $TRAN signaled a market collapse far ahead of Jan. 2016 collapse. Failed Patterns are indeed provide great opportunities and traders should pay close attention to them.




1. Auto ABC
2. Head and Shoulders
3. Super Bars

Trading Symmetric Triangle Patterns
Trading Cup and Handle Patterns
Trading Megaphone Patterns
How to trade your Dragon
Trading ABC Patterns
Parabolic Arc: What Goes Up...
Trading Large Gaps
Trading Parabolic Arcs
Behavioral Biases
Trading Chart Patterns Prematurely
Developing SPX Cup and Handle Pattern
Trading Patterns with Market Context and EquiVolumeTrend
Trading Patterns with Market Structures
Trading Failed Chart Patterns - H&S
Happy New Year 2016
Trading Phases using CMI
Volatility Zones
Trade Tools and Support Tools
Trading Confluence of Chart Patterns
Trading ABC Patterns with Options
2B Patterns
ABC Bullish
ABC Bearish
Books
CMI
Double Bottom
Double Top
Dragons
Elliott Waves
Failed Chart Patterns
Fib. Bands
Fib. Zone Pivots
Fibonacci Levels
Floor Pivots
Gartley/Butterfly
Globex Pivots
Head and Shoulders
Inv. Head and Shoulders
Market Structures
MegaPhone
Multiple Tops
Multiple Bottoms
Options
Parabolic Arc
Pivots
Price Profile
Seminars
Strageies
SuperBars
Triangles
Trading
Psychology
Videos
Volatility Zones
VWAP
Wolfe Waves
X5 Patterns
Nov. 2015
Oct. 2015
Before 2015