"To Win, You Need Clarity -- Anon"
Trading ABCs with MSL 12/08/2009 4.45pm
---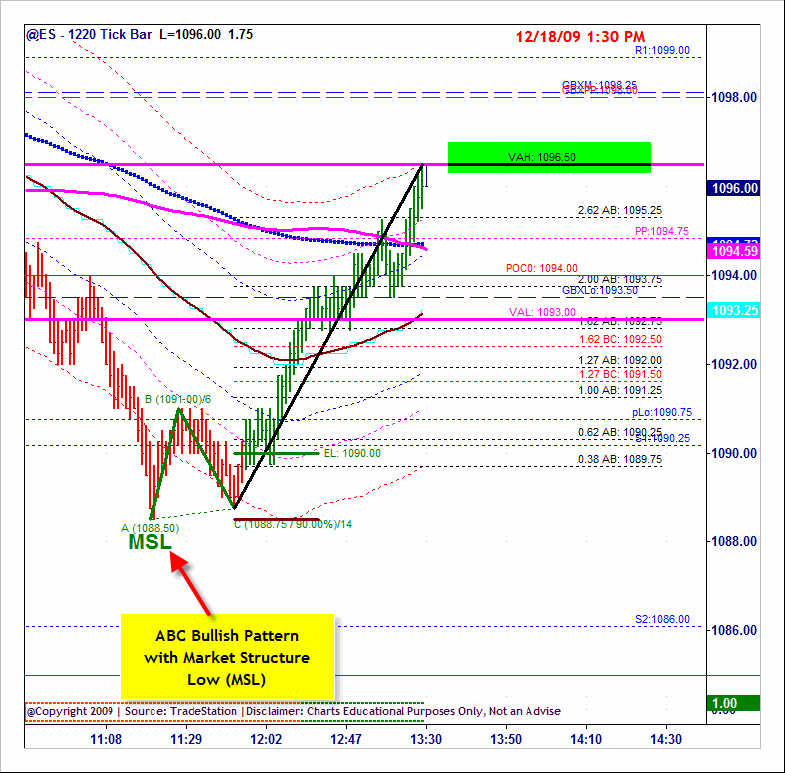 ABC patterns are corrective patterns where trades are only traded in the Trend Direction (in AB Direction). ABC Pattern formations are more powerful when a Market Structure Low (MSL) or MSH is part of the structure. These patterns are traded with Market Context using Fib. Bands and MSH/MSLs to find perfect patterns.

Here is the @ES chart in 1220 tick time-frame, where point 'A' was MSL. Also, note point 'A' is outside the extreme Fib. Bands. After a retracement of 90% (small Triangle of only 2.5 points), price retraced back into the Fib. Bands and signaled an AB trade at 1090. The initial targets were very small: 1091-92 (100-127%). This pattern continue to trade higher and seen major resistance at VAH (Value Area High).





1. Auto ABC
2. Fib. Bands
3. Globex Pivots
4. Price Profile
5. Market Structures

Trading Cup and Handle Patterns
Trading Megaphone Patterns
How to trade your Dragon
Trading ABC Patterns
Parabolic Arc: What Goes Up...
Trading Large Gaps
Trading Parabolic Arcs
Behavioral Biases
Trading Chart Patterns Prematurely
Developing SPX Cup and Handle Pattern
Trading Patterns with Market Context and EquiVolumeTrend
Trading Patterns with Market Structures
Trading Failed Chart Patterns - H&S
Happy New Year 2016
Trading Phases using CMI
Volatility Zones
Trade Tools and Support Tools
Trading Confluence of Chart Patterns
Trading ABC Patterns with Options
Trading Elliott Wave with ABC
2B Patterns
ABC Bullish
ABC Bearish
Books
CMI
Double Bottom
Double Top
Dragons
Elliott Waves
Failed Chart Patterns
Fib. Bands
Fib. Zone Pivots
Fibonacci Levels
Floor Pivots
Gartley/Butterfly
Globex Pivots
Head and Shoulders
Inv. Head and Shoulders
Market Structures
MegaPhone
Multiple Tops
Multiple Bottoms
Options
Parabolic Arc
Pivots
Price Profile
Seminars
Strageies
SuperBars
Triangles
Trading
Psychology
Videos
Volatility Zones
VWAP
Wolfe Waves
X5 Patterns
Nov. 2015
Oct. 2015
Before 2015