Trading Patterns with Market Structures 3/31/2016 8.45am
---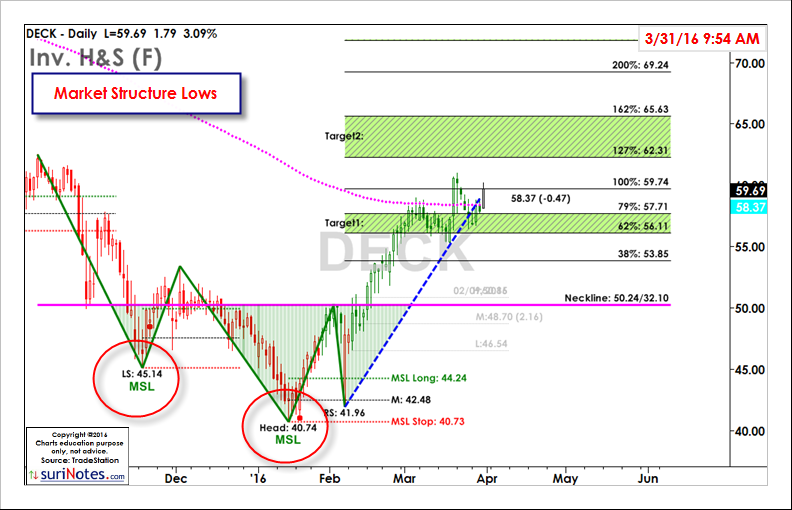 Market Structures concept is simple, yet a very powerful structuring concept. Markets have structures and traders miss most cues as they are constantly hunting some pattern, momentum, oscillator or some Zen-type signals. Market Structure formation is a price phenomenon occurring at major turns. Prices start with a wave (lets say Up) and it ends at some point and then there is down-wave, and it ends some time and then up-wave. These wave formations start with the Market Structures. Market Structure Low (MSL) and Market Structure High (MSH) formation is continuous and is repetitive at every wave begin and every wave end.

Market Structures form in all markets, all time-frames and in all instruments. They fail and refail, form and re-form. Market Structure is a concept pattern. It needs other indicators, support/resistance levels, triggers to confirm the theory and its works.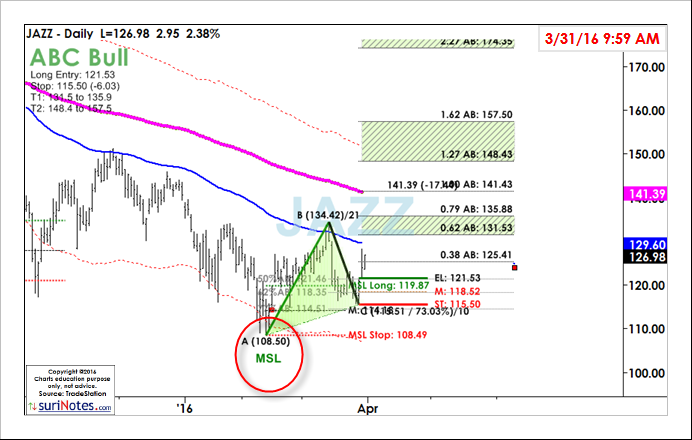 JAZZ with ABC Bullish Pattern with Market Structure Low.

JAZZ was in a prolonged down trend late 2016, and in mid Feb. 2016, it traded outside the Fib. Bands and formed a Market Structure low (MSL) at 108. This provided a clue for JAZZ may be forming a bottom. From mid Feb. to mid March JAZZ attempted a rally near mid Fib. Bands ($134), potential AB Leg of ABC Pattern. Next Leg (BC) retracement (50% time, 73% price) completed ABC pattern. Late March 2016, JAZZ triggered EL level at 121.53. The ABC Pattern success was strong as 'A' pivot is also an MSL. This added an additional confidence to trade ABC Pattern. After triggering Entry from 121.58 (EL), within few days JAZZ traded near $131 in the first target zone.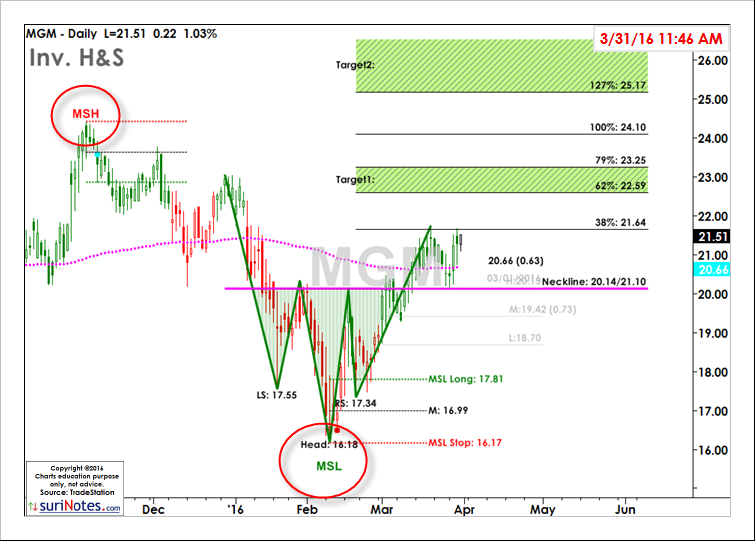 MGM with Inv. Head and Shoulders Pattern.


1. Auto ABC
2. Head and Shoulders
3. Super Bars
4. Market Structures

Trading Symmetric Triangle Patterns
Trading Cup and Handle Patterns
Trading Megaphone Patterns
How to trade your Dragon
Trading ABC Patterns
Parabolic Arc: What Goes Up...
Trading Large Gaps
Trading Parabolic Arcs
Behavioral Biases
Trading Chart Patterns Prematurely
Developing SPX Cup and Handle Pattern
Trading Patterns with Market Context and EquiVolumeTrend
Trading Patterns with Market Structures
Trading Failed Chart Patterns - H&S
Happy New Year 2016
Trading Phases using CMI
Volatility Zones
Trade Tools and Support Tools
Trading Confluence of Chart Patterns
Trading ABC Patterns with Options
2B Patterns
ABC Bullish
ABC Bearish
Books
CMI
Double Bottom
Double Top
Dragons
Elliott Waves
Failed Chart Patterns
Fib. Bands
Fib. Zone Pivots
Fibonacci Levels
Floor Pivots
Gartley/Butterfly
Globex Pivots
Head and Shoulders
Inv. Head and Shoulders
Market Structures
MegaPhone
Multiple Tops
Multiple Bottoms
Options
Parabolic Arc
Pivots
Price Profile
Seminars
Strageies
SuperBars
Triangles
Trading
Psychology
Videos
Volatility Zones
VWAP
Wolfe Waves
X5 Patterns
Nov. 2015
Oct. 2015
Before 2015