Trading Chart Patterns Prematurely 7/18/2016 8.45am
---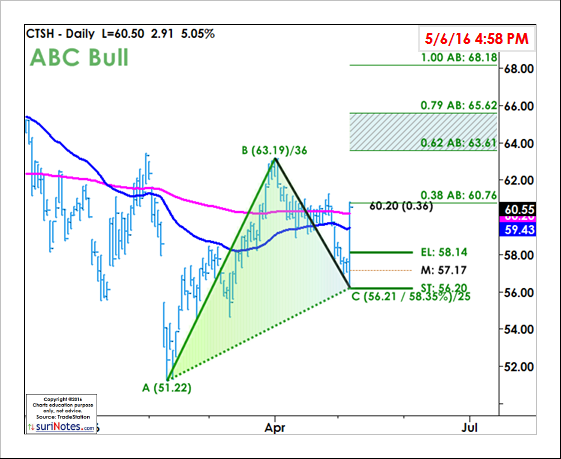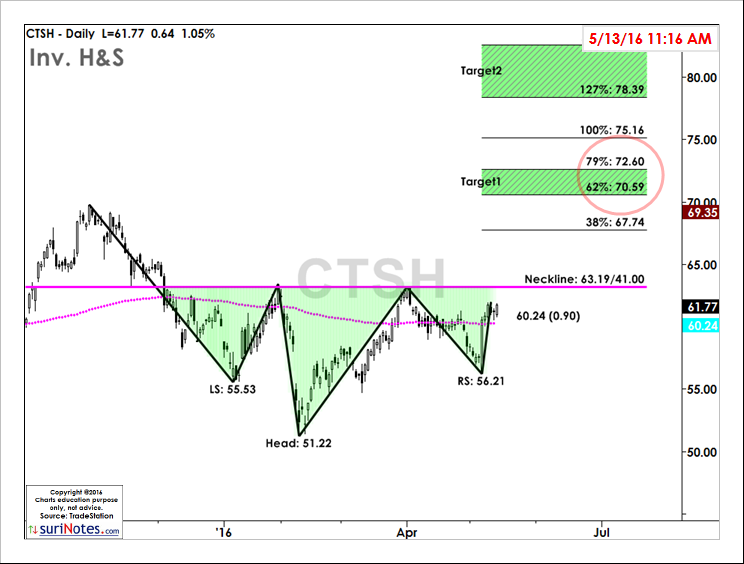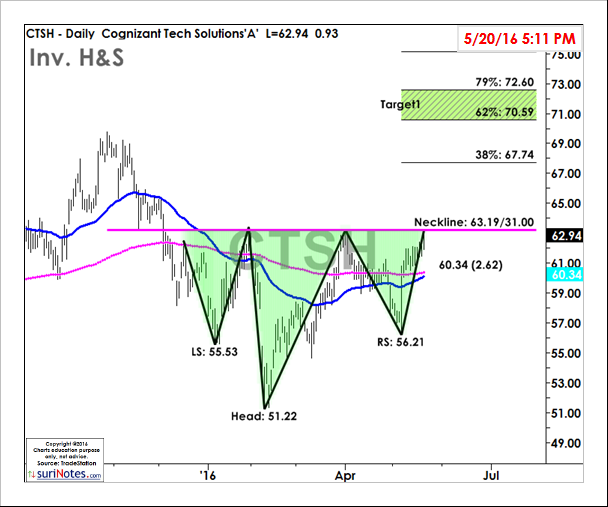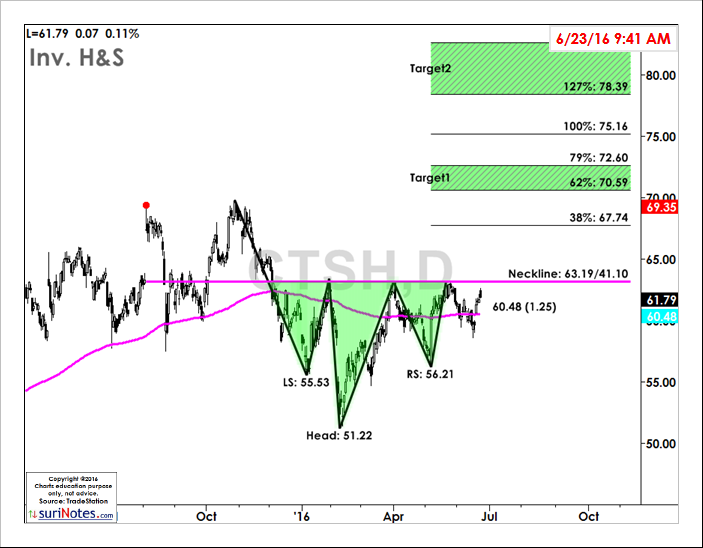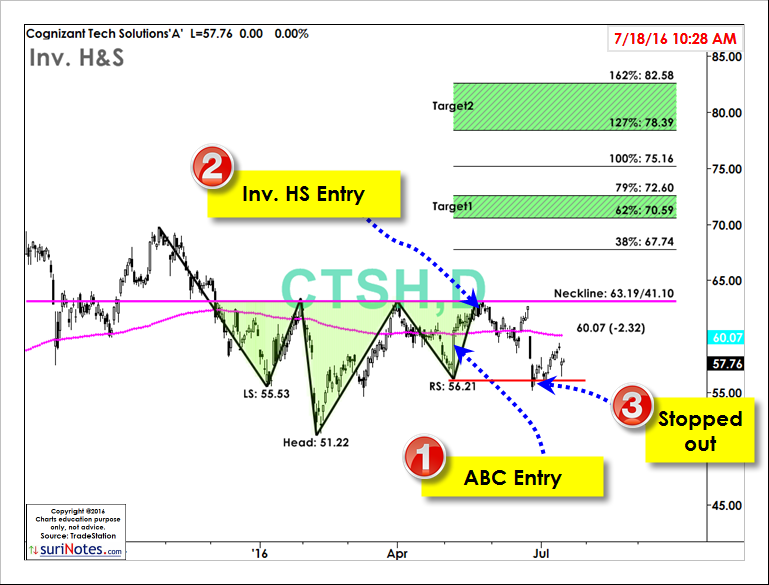 Trading Chart Patterns Prematurely

Historical Chart Posts of CTSH

I am a believer in trading patterns or any setups after they are fully confirmed in its development and clearly given entry signals. But some times, I get into the trap of Confirmation Bias (with a hint of Over-confidence), I tend to ignore one or the other factor and enter into trades little pre-maturely. Here is such a case of Cognizant Tech Solutions (CTSH) stock's ABC Bullish and Inverse Head and Shoulders Patterns trades, clearly demonstrating my pre-mature entry and its results.

During the first week of May 2016, I spotted CTSH stock was building a nice ABC Bullish setup with a 58% C retracement (into AB) and had good tones of becoming a great ABC Bullish Pattern to trade. On 5/6/16, CTSH rallied over $4 on earnings to trade above EL ($58.14). This triggered a ABC Bullish trade (long). The CTSH chart also had another important pattern Inv. Head and Shoulders development with Neckline at $63.19. Well, a Strong ABC Bullish + Inv. Head Shoulders pattern with underlying strong uptrend gives a sense that it is about to move up and reach at least ABC first Target Zone ($63-65) and potential second target zone ($71-75). The initial Stop is placed at $56 (below C).

Here comes the over-confidence based on Confirmation Bias

While I am already in ABC Bullish trade, I realized price may be breaking out above Neckline in Inv. Head and Shoulders pattern ($63.19). The following 8 days after my entry (5/6) into CTSH & my ABC Pattern did show the strong uptrend as the price reached near the first ABC target zone ($63-65) as expected. I usually exit part of my position at 1st Target zone. But looking at the underlying Inv. HS pattern and my ABC Bullish trade, I thought I should build up a larger position for impending Inv. HS pattern breakout (pre-maturely). This is a Confirmation-Bias (kinda overconfident built from my already profit based ABC Bullish position). So, I added more (long) to my position before Inv. HS Neckline breakout. Now I have a larger trade built, kinda correctly first and then added based on over-confidence.

Trading Inv. HS Logic (on 5/23)

If I were to only trade Inv. HS pattern (without ABC) on 5/23 or thereafter this is what I would have done. CTSH already showed a clear up-trend and confirming a strong Inv HS pattern (SF score: 0.68). I would wait for a close above Neckline (63.19) and place a long trade above the high of the bar closed above Neckline with a stop-loss at $59.5 and targets $70-72 and $78-82. Pretty good RR (2:1 to 5:1) and have great odds as Market Context was solid with eSIX and SuperBars all strong. Well, CTSH never really closed above Neckline as it only reached a high of $63.15.

Reality

Well, as soon as I built a larger position (5/23) instead of taking profits at the first target zone, CTSH started a down-trend. Usually, I am cautiously confident for this type of lower-drift as I know from my experience it is healthy. Next 2-3 weeks CTSH drifted lower as I kept my cool. My ultimate Stop was below $56 (original ABC Stop). Midway through I did realize my error and knew I entered InvHS without confirmationand brought my profitable ABC trade to loss (due to adding). But now instead of closing trade, I am waiting for either to hit my stop or reverse and trade up as I intended.

During the week of 6/16-6/23, suddenly markets started moving higher on the hopes of BREXIT may not happen (false polls). CTSH moved higher to build my hope that now it will break out of Neckline ($63.19). On 6/24 BREXIT happened, pretty much making a mockery of every pundit and polls and markets fell big. CTSH opened roughly $2.50 lower and closed $4 lower. Following trading day (Monday, 6/27), CTSH fell even lower and hit my Stop $56. I was out of the trade with the loss. A good lesson to wait for confirmations.

Conclusion

I do love trading InvHS patterns with strong ABC trades like CTSH. These are my bread & butter setups. I am always confident with trading patterns which support my belief with the market context. But I also know Patterns do FAIL and FORM and RE-FAIL and RE-FORM. As a trader, we have to follow a trading methodology and keep up the rules. The sliver of brightness in this trade is I did keep my rule and exited at my pre-determined stop loss of $56. Entries were: $59.5, $62.8. Going forward, I will be careful with confirmation bias and keep a cautious tone on premature entries.






1. Auto ABC
2. Head and Shoulders
3. Super Bars

Trading Symmetric Triangle Patterns
Trading Cup and Handle Patterns
Trading Megaphone Patterns
How to trade your Dragon
Trading ABC Patterns
Parabolic Arc: What Goes Up...
Trading Large Gaps
Trading Parabolic Arcs
Behavioral Biases
Trading Chart Patterns Prematurely
Developing SPX Cup and Handle Pattern
Trading Patterns with Market Context and EquiVolumeTrend
Trading Patterns with Market Structures
Trading Failed Chart Patterns - H&S
Happy New Year 2016
Trading Phases using CMI
Volatility Zones
Trade Tools and Support Tools
Trading Confluence of Chart Patterns
Trading ABC Patterns with Options
2B Patterns
ABC Bullish
ABC Bearish
Books
CMI
Double Bottom
Double Top
Dragons
Elliott Waves
Failed Chart Patterns
Fib. Bands
Fib. Zone Pivots
Fibonacci Levels
Floor Pivots
Gartley/Butterfly
Globex Pivots
Head and Shoulders
Inv. Head and Shoulders
Market Structures
MegaPhone
Multiple Tops
Multiple Bottoms
Options
Parabolic Arc
Pivots
Price Profile
Seminars
Strageies
SuperBars
Triangles
Trading
Psychology
Videos
Volatility Zones
VWAP
Wolfe Waves
X5 Patterns
Nov. 2015
Oct. 2015
Before 2015