"Show me someone content with mediocrity and I'll show you someone destined for failure."
Trading ABC Patterns 11/07/2016 8.45am
---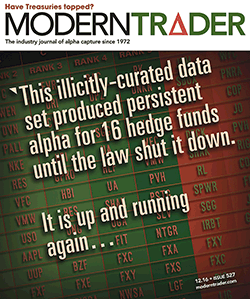 Trading ABC Patterns by Suri Duddella in Modern Trader Magazine (Dec. 2016)

The ABC Chart pattern and its related AB=CD Chart Pattern are prime examples of "Symmetry" in the markets. These "Harmonic" patterns help traders to identify buying and selling opportunities in all markets and in all time-frames. The ABC and AB=CD patterns are first described by H.M. Gartley in his book "Profits in the Stock Market." (1935). The main advantages of trading harmonic patterns are that they allow traders to determine risk vs. reward ratios beforehand as they forecast key market turning points and profit targets for traders. In this article, I will describe how to trade 'ABC' chart patterns. The ABC pattern (can be a continuous or reversal pattern) and it is shaped like a lightning bolt.

Please continue to read at Modern Trader Magazine (Dec. 2016)




Trading Cup and Handle Patterns
Trading Megaphone Patterns
How to trade your Dragon
Trading ABC Patterns
Parabolic Arc: What Goes Up...
Trading Large Gaps
Trading Parabolic Arcs
Behavioral Biases
Trading Chart Patterns Prematurely
Developing SPX Cup and Handle Pattern
Trading Patterns with Market Context and EquiVolumeTrend
Trading Patterns with Market Structures
Trading Failed Chart Patterns - H&S
Happy New Year 2016
Trading Phases using CMI
Volatility Zones
Trade Tools and Support Tools
Trading Confluence of Chart Patterns
Trading ABC Patterns with Options
Trading Elliott Wave with ABC
2B Patterns
ABC Bullish
ABC Bearish
Books
CMI
Double Bottom
Double Top
Dragons
Elliott Waves
Failed Chart Patterns
Fib. Bands
Fib. Zone Pivots
Fibonacci Levels
Floor Pivots
Gartley/Butterfly
Globex Pivots
Head and Shoulders
Inv. Head and Shoulders
Market Structures
MegaPhone
Multiple Tops
Multiple Bottoms
Options
Parabolic Arc
Pivots
Price Profile
Seminars
Strageies
SuperBars
Triangles
Trading
Psychology
Videos
Volatility Zones
VWAP
Wolfe Waves
X5 Patterns
Nov. 2015
Oct. 2015
Before 2015