suriNotes.com's

Chart Patterns & Algo. Trader (Weekly Magazine, May 23, 2022)

---

Auto Generated Chart Patterns/Analysis
Stocks/Futures/Commodities/FX
Daily/Weekly/Monthly Analysis
Watchlists
Algorithmic Trading Concepts/Analysis
Advanced Trading Ideas
Sectors & Indexes relative performances
Relative Strength Ranks
"Become one of the successful few who build stone upon stone until they have a solid foundation of knowledge and experience which will last them all their lives. You cannot go into any phase of endeavor and make money or become prominent 'just like that' - you must serve your apprenticeship. -- Richard Wyckoff"

Trade Ideas (05/23/2022, Monday )

Archives
Collections of Trade Charts, Pattern Formations, Daily setups, Daily Ideas posted to Twitter or StockTwits. Posts are updated during intraday and end-of-day.
SALE 30% off Yearly Subscription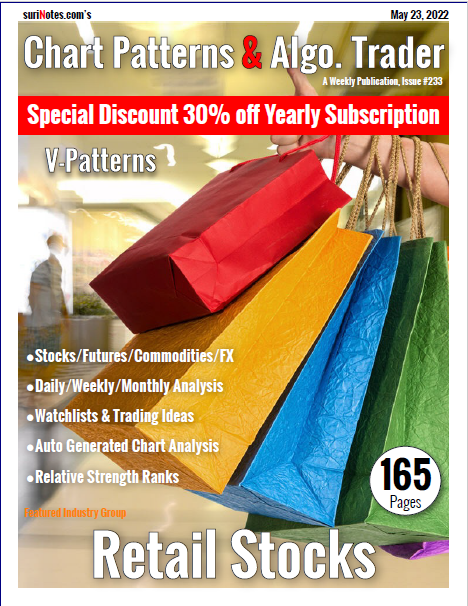 05/23/22 (09:16)

XLE (LRC)
05/21/22 (20:59)

SPX (WKLY)
05/21/22 (10:16)

XOM (HARMONICS)
05/21/22 (10:11)

AMGN (RIBBON)
05/21/22 (10:04)

WDC (RIBBON)